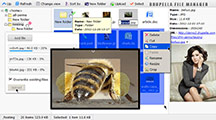 Drupella FM is a web-based file manager that has a drag & drop user interface powered by AJAX.
This is the standalone version that can be integrated into any site running PHP.
Features
AJAX powered drag & drop user interface
File operations: Upload, Delete, Move, Copy, Rename, Download
Folder operations: Create, Delete, Move, Copy, Rename, Download
Image operations: Resize, Crop
Mouse indicators for move-copy permissions during drag & drop.
Multiple file upload
Upload progress
Drag drop files from your local computer
File sorting by name, size, date, type
Keyboard shortcuts for file operations similar to common file explorers of Windows and Linux.
Switching between icon view and list view
Small footprint with overall 90kb javascript. (30kb gzipped)
Very fast javascript DOM rendering. A folder containing 10000 files takes only a few seconds to render.
Configurable limits: upload file size, file extensions, image dimensions...
Multiple personal or shared folders for users
File permissions per folder
Display thumbnails as image icons
Custom wysiwyg plugins for inserting multiple images or files into editor content
Mobile friendly responsive layout. Fully functional in mobile browsers supporting touch events.
Search files & folders
Requirements
Requires a webserver (Apache, nginx, IIS) running PHP (5.3 or later)
Installation
Install
Copy dfm_php under your site directory so it is available at http://example.com/dfm_php
Create a copy of the settings file custom/default.settings.php as custom/settings.php
Edit settings.php to set your managed files directory, admin password, and other configuration options.
Set settings.php as read-only!
Visit http://example.com/dfm_php and login as admin to manage your files.
CKEditor Integration
Integrate into image & link dialogs:

This requires to set filebrowserBrowseUrl parameter of CKEditor.config.
http://docs.cksource.com/ckeditor_api/symbols/CKEDITOR.config.html#.file...

- Either set it globally:

CKEDITOR.config.filebrowserBrowseUrl = '/dfm_php?fileHandler=dfmCkeHandler';

- Or set it per editor instance:

CKEDITOR.replace('editor1', {filebrowserBrowseUrl: '/dfm_php?fileHandler=dfmCkeHandler'});

You also need to define the handler(dfmCkeHandler) by javascript in the page on which CKEditor is being displayed:

    // File handler that is called by DFM when a file is selected
    window.dfmCkeHandler = function(selectedFile, dfmWindow) {
      CKEDITOR.tools.callFunction(dfmWindow.dfm.urlParam('CKEditorFuncNum'), selectedFile.getUrl());
      dfmWindow.close();
    };

Enable the buttons defined in wysiwyg_plugins/ckeditor/plugin.js:

The plugin introduces new image(DfmImage) & link(DfmFile) buttons that allow inserting multiple files at once.

- Either introduce the plugin to CKEditor as an external plugin:

CKEDITOR.plugins.addExternal('dfm', '/dfm_php/wysiwyg_plugins/ckeditor/', 'plugin.js');

- Or copy wysiwyg_plugins/ckeditor as <CKEditor>/plugins/dfm

Then use it in editor configuration:

    CKEDITOR.replace('editor1', {
      extraPlugins: 'dfm',
      toolbar : [['Bold', 'Italic', 'Underline', 'DfmImage', 'DfmFile']]
    });

Note: You may want to update the plugin.dfmUrl = '/dfm_php' setting in the plugin.js file. In that case move the plugin to a custom folder to prevent overwriting on next update.
TinyMCE and other custom application integration
Please see README.txt for further details.