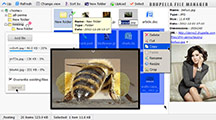 Drupella FM is a web-based file manager that has a drag & drop user interface powered by AJAX.
Having WYSIWYG support out of the box, it can replace many file manager modules available for Drupal 8.
See the live demo
Also see DFM 7 and DFM Standalone
Features
AJAX powered drag & drop user interface
File operations: Upload, Delete, Move, Copy, Rename
Folder operations: Create, Delete, Move, Copy, Rename
Image operations: Resize, Crop
Mouse indicators for move-copy permissions during drag & drop.
Multiple file upload
Upload progress
Drag drop files from your local computer
File sorting by name, size, date, type
Keyboard shortcuts for file operations similar to common file explorers of Windows and Linux.
Switching between icon view and list view
Small footprint with overall 90kb javascript. (30kb gzipped)
Very fast javascript DOM rendering. A folder containing 10000 files takes only a few seconds to render.
Configuration profiles per user roles
Configurable limits: upload file size, disk quota, file extensions, image dimensions
Multiple personal or shared folders for users
Token support in folder names
File permissions per folder
Support for inline image & file link insertion into textareas
Display thumbnails as image icons using image styles
Integration with core CKEditor module and BUEditor
Custom wysiwyg plugins for inserting multiple images or files into editor content
Support for private file system
Select FTP files or Drupal files for file/image fields
Support for custom stream wrappers like Amazon S3
Ability to download files and folders in a zip archive
Mobile friendly responsive layout. Fully functional in mobile browsers supporting touch events.
Search files under any directory
Installation
Copy the dfm module directory to sites/all/modules
Enable the module in Drupal admin interface
Create configuration profiles and assign them to user roles at /admin/config/media/dfm
Users can access the file manager at /dfm. Non-default file systems can be accessed at dfm/SCHEME
CKEditor Integration
Go to /admin/config/content/formats to edit a text format that uses CKEditor.
Enable the image & link buttons provided by Dfm under Toolbar Configuration.
BUEditor Integration
Edit your editor at /admin/config/content/bueditor.
For image/link dialog integration: Select Drupella File Manager as the File browser under Settings.
You can also enable standalone image & link buttons to insert multiple images/links at once.
File/Image Field Integration
Go to form settings of your content type. Ex: /admin/structure/types/manage/article/form-display
Edit widget settings of a file/image field.
Check the box saying "Allow users to select files from Drupella File Manager for this field." and save.
You should now see the "Select file" link above the upload widget in the content form.
Textarea(plain) Integration
Enter your textarea ids into > at /admin/config/media/dfm.
Now you should see and links under your textareas.
Standalone Usage
Go to example.com/dfm to manage files in your default file system.
For non default file systems go to example.com/dfm/SCHEME where SCHEME is the identifier of the file file system. Ex: example.com/dfm/private.